We all know the value that stories can bring to a speech. They add colour and life, they add interest and fun, they back up the key points, show a concept in action, and most importantly, they add audience engagement and connection.
But – they can also be self-serving, drag on, and lose your audience, so knowing which stories to use – and how and where to use them – is really important.
So how do you know which ones you should avoid, and which ones will deliver extraordinary meaning and value to your audience?
Here are 3 things to think about when looking for the right stories for your presentations:
1. If you want to share some of YOUR stories. Start by looking back at your life….. the good, the bad, and the ugly, the stories of challenge, mistakes, success, learning, the people or places that have made a difference in your life. You don't have to have climbed Mount Everest, been in the Olympics or overcome a big trauma – or experienced a huge success – to have a compelling story.
What you're looking for are the TRANSFORMATIONAL moments, and the events that led up to the transformational moments. These are the moments where something fundamentally changed, where you came to a new realization, where things just shifted in your world, your perspective. And new stories are happening to us every day! Be aware of them, what's making a difference to you, and what might make a difference to your audience….
2. What if you want to use another person's story, perhaps a client or organization that you've worked with?
You've got to start by setting the stage. What was their problem BEFORE they met you, what did you do to help them solve it, how did it help, and where are they now? A story can just as easily be a RELEVANT EXAMPLE of something that you did for someone else, or something that you witnessed.
Don't fall into the trap of sharing a story or example simply because it's entertaining or funny. It MUST be relevant to your audience, and relevant to your presentation topic.
3. Choose your stories carefully. Don't be the hero of all your stories, where everything that happened to you worked out exactly as you planned, and was just fabulous. That's not interesting or engaging –and your audience won't connect with it.
Once you've got a handle on the story – or stories – that you're going to use, then you can step out and share them in a way that adds great value to your presentation, and allows your audience to really connect with you and your message.
Good luck!
A super-fun (and early) morning on Global TV Montreal, discussing how to prepare for a speech, why telling a joke at the beginning is a BAD idea, and how to be gentle (yet still helpful) if someone asks for YOUR feedback on their speech.
Complete with an intro taken from one of my Speaking Resource videos, 3 Questions That Prove You Care About Your Audience.
p.s. I'm going to start to admit that I'm starting to lean towards this no-glasses look. I still haven't mastered poking myself in the eye for contact lenses, but it's on my to-do list.
A great time was had by all on CJAD800 Montreal radio on the Life Unrehearsed program (I come on in the last half hour in this video).
We talked about common myths of public speaking, how to shift your mindset so that you could approach your presentation with more confidence, and the best first steps for moving forward.
At the end, they asked "Where can our listeners go from here?" And while I suggested getting a coach and checking out Toastmasters, I should also have suggested that that they (and you!) check out the TONS of speaking resources available on my website — articles, posts, and most importantly, a variety of 2-minute videos that address some of the most common public speaking questions that I get asked.
The show was done on a Facebook Live, so you can watch it here!
Now THIS is an example of speaking with impact, from a podium no less. I got goosebumps watching it. Watch this video, take note of your heart beating faster as he shares his story….and watch the hairs on your arms stand up!
What makes this so speech from former Navy Seal Commander, Naval Admiral William H. McRaven, ninth commander of U.S. Special Operations Command, so powerful, and what lessons can we learn from it? Take note of:
– The "Bold Claim" Introduction After opening his speech with the University's slogan — "What starts here changes the world" — he makes a claim that if every one of the people in his audience changes the lives of another 10 people, then in 5 generations, they will have changed the lives of 800 million people. That's a pretty big number, one that many may think is a bit outlandish. But then he goes on to tell his story, about how has seen, and experienced, changing people's lives during his tours in Iraq and Afghanistan.
– Body language (he doesn't sway, step forward or backwards — he stays perfectly straight)
– Pausing. He lets his words land…and then waits for you (the audience) to take in their meaning.
(Here's the 6-minute version of the speech — the full video is at the bottom of this post).
– Story. He tells a compelling, moving, dramatic story with lots of details that allows the audience to easily visualize the situation. And VERY importantly, the story has a point that relates directly to the topic! (more below…)
– Voice. Modulates, it gets louder and quieter depending on what he's saying. He is 'less loud' when he's leading up to his point, and louder when he wants to create an impact,
– Use of the podium (also related to "body language", above). Stands straight, hands on podium, holding it lightly. He doesn't sway, and he also doesn't grip the podium too tightly.
– Use of notes. He looks at them quickly, then looks up at his audience to make his point. Also note that he is ALWAYS looking up at the audience when he makes his point.
– Clothing. Talk about an outfit that inspires confidence, trust and strength. And while most of us may not have a uniform adorned with medals, awards and proof of valour and bravery as US Navy Admiral William H. McRaven does, there's no doubt that what you choose to wear will have an impact on how your audience views you. So choose wisely…
– Not JUST a Strong Conclusion, but a Visionary one. He refers back to his introduction, especially the bold claim of changing the lives of 800 million people. He then quickly recaps his points, all of which lead to the Visionary Conclusion, where he creates a vision of what the future will look like if everyone in his audience does what he suggests, and the impact that they will have on the world. And it is SO powerful.
All that….AND he inspired me to make my bed.
I'm so excited to have been interviewed by Top Hat, a teaching platform that helps professors engage students with compelling content, tools and activities.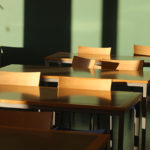 "With class back in session, first-time profs may be feeling the pressure. An expert weighs in on how to deliver your best lecture possible, and minimize nerves in the process…" 
Subjects in this very well-written article include how to prepare properly to enhance your content and delivery, how to build trust among your audience with audience-centric content, and how to squash nerves. That's right…SQUASH them!
In August 2017, Manoj Vasudevan was crowned the 2017 Toastmasters International World Champion of Public Speaking. Manoj rose above 30,000 contestants to take this prestigious title in the finals of the world's largest public speaking contest.
Business Insider Magazine provides a very thorough, insightful analysis of WHY this particular speech edged out the competition, and is definitely worth a read, simply for the 'deconstruction' of the speech. The one extra thing that stood out for me was how he approached the dialogue of his stories; especially the technique of having his mother in one particular location "on the stage," and always looking or pointing in that particular location every time he's telling a story about her.
I'm also a big fan of his "phrase that pays," ie. "Pull less, bend more." Repeated often, and associated with a particular gesture each time, makes it very memorable.
What do you think made this speech worthy of the win? And if you were to compare it to the 2016 winner Darren Tay  (memorable because he was wearing underwear over his suit) or the 2015 winner Mohamed Quatani (memorable because he smoked a cigarette on stage….but even MORE memorable when it was revealed that he was unable to speak until the age of 6), do you think that they're all the same calibre and quality?
Have you ever worked so hard on a presentation, one that took you hours and hours to create, and then you delivered it well, and enjoyed great applause and feedback from the audience…but then — nothing changes, and you simply do not get the results you want?
Time, energy and money is being spent on presentations that simply do not get the results they were designed to achieve.
How annoying.
Check out this one essential tip that will allow you to approach your presentation in a way that helps you build a solid connection with your audience —  and ensure that the time, energy & money invested in your presentations pay off (2.5 minutes).
(Apologies for all the background noise. I was in a hotel, and the staff decided that the best time to set up dishes was at the EXACT MOMENT that I started filming. Ah well…people have to eat, I suppose! )
If you've ever given a presentation, you know how tempting it is to wow your audience with fabulous graphics and over-the-top information. That's why they came to the meeting, right? And that certainly takes the attention off of you—even better, correct?
Unfortunately, that's the exact opposite of what presenters should be doing, and it won't do anything to help you boost your speaking confidence. What you should always remember is that the people in the audience might want to learn, but they're mostly interested in seeing you. What you can do is help them change their viewpoint—giving them a reason to care. To do that, you have to own the idea—and to share it, too. And even if you don't feel confidence, you have to figure out how to impart that notion to your audience.
Want more tips on how to make your presentation great? Check out this cool graphic — which also includes insights from global presentation leaders Nancy Duarte and Guy Kawasaki. It goes into more visual (and interesting) detail to explain these 7 ways to make your next presentation your best yet:
#1 — Own the idea
#2 — Contrast wins
#3 — Make the audience the hero
#4 — Resonate confidence
#5 — One slide, one idea
#6 — Consider the 10/20/30 rule
#7 — Don't over-complicate tool selection
(Many thanks to Gherich & Co. and Salesforce Canada for sharing this information with me!)
Via Salesforce
Do you think this covers everything? Would you add anything else?
This is a guest post by Samuel Eddy, the man behind Open Change Workplace Wellness. Through his company he combines his counselling background and corporate experience to deliver keynote speeches and corporate programs that promote positive ways to combat anxiety, stress and disruption in the workplace. Communication is key is a mantra that Sam is committed to, both in practice and in content.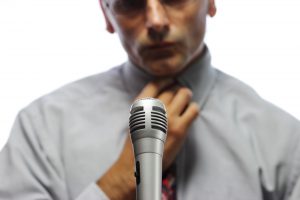 Three in four people experience some form of anxiety when it comes to public speaking.
That means that there is a better than average chance you have some sort of anxiety when it comes to public speaking. Also, if you have found your way to this blog, you probably have some call to deliver a speech, or speeches in front of large groups of people. There is a significant overlap of people in this world who are intimidated by public speaking and those that are called to do it on a regular basis.
While talking in front of a crowd is not as threatening as facing a great white shark or sky-diving 12,000 feet, it is much more likely it is a fear you will have to confront at some time in your life.
Most people do.
And it is scary.
And if you have had to do it on a regular basis you probably would have coped by quickly learning the language of public speaking. How to open a speech; how to lead into your primary point; and how to sum everything up.
You will have become, by all measures, a very good public speaker.
Unfortunately, if you want to make an impact with what you say, being 'very good' at public speaking is exactly the opposite of what you actually want.
Why 'very good' is the opposite of excellent.
Now, maybe I am already guilty of going a bit overboard.
When, I say 'very good' is the opposite of what you should be aiming for in your public speaking, I am only referring to cases when you want your audience to really remember what you have to say.
And I say this without meaning to be facetious. There are plenty of situations where a speech you might have to deliver is only a necessary side product of your main goal.
I run a business called Open Change which is primarily concerned with discussing workplace wellbeing in a corporate setting. In my situation, when I deliver a keynote speech or run a workplace workshop, the speech I deliver to my audience is the actual point of what I am doing. If my audience don't absorb the ideas I am talking about, there is no point to what I have done.
And if all I do is produce a 'very good' speech, I will likely find myself in a situation where they may listen intently, but they probably won't remember a single thing I have said more than a few days later.
Why? Because people don't remember 'very good'. They remember exceptional. They remember horrendous. Everything else is just white noise
How to be an exceptional public speaker.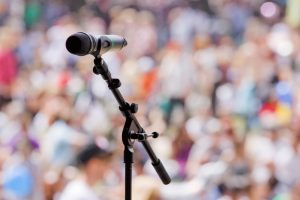 1. Risk being horrendous
The main reason being 'very good' is such a forgettable strategy is because it is safe
Here is a more tangible example: unless it was in the last couple of weeks you probably couldn't pinpoint the last time you had vanilla ice cream.
You probably enjoyed it when you had it, but it wasn't a truly memorable event.
If, however, you ever tried Wasabi Pea Dust soft serve (which is a real flavour, by the way) you are likely to recall the time and place you ate it.
And while even the most adventurous foodie is unlikely to know for sure whether they are actually going to enjoy Wasabi Pea Dust as an ice cream flavour, the risk involved is a platform for a memorable experience.
So if you want to be memorable, you need to take risks. And a risk can only be defined so if there is a real chance of failure.
2. Clip off your introduction
I would be willing to wager that when you think back to the most memorable public speeches you have seen, none of them started with the standard "Thank you for having me" and "My name is" blah-blah that pads the beginning of 99% of speeches ever delivered.
But even more likely, the speaker in question will not have started their speech by detailing the "today I am going to talk to you about…" mantra.
There is absolutely no need to give your audience an overview of what you're about to say before you say it. It is a horrible habit left over from high school essay writing and all it does is give your audience a chance to decide to switch off when they are presented with your topic as a dry summary of dot-points.
Build your story as you go and take the audience along for the ride. If you can stay a couple of steps ahead of your audience, then you keep them on the edge of their seats and don't give them a chance to switch off.
3. Adjust to your crowd
You want to be well rehearsed, but you don't want to be rigid.
A truly great public speaker will give the same speech differently every single time they do it. The real secret though, is how to do that. And unfortunately, for that there is no simple answer.
True 'crowd sense' really comes from practicing delivering your speech front of a crowd, but there are things you can do to fast-track your development:
Rely on your senses: Speaking to a bunch of people at the same time can seem like a bit of a freakish ability to master but in a way there are many similarities between that and talking with someone one on one. You just have to learn the "body-language" of a crowd. You do that by always being receptive to the energy coming back at you and soon you will be able to adjust in the exact same way if you sensed someone was losing interest during a conversation.
Don't panic at silence: Many "very good" speakers want to hear from their audience on a regular basis and will throw in joke where a joke doesn't need to be just to get a reaction. Learn to read silences. Dead silence usually means they are listening. It's

 

when you hear muttering and fidgeting that is when you're usually starting to lose them.
Detect and address confusion: If something you say doesn't get the reaction you expect, and the crowd start trading whispers, then consider if you haven't explained yourself properly and backtrack. Ask the audience if they've grasped what you said. Too often I see people stumble on a point but then just plow forward. An audience that hasn't understood what you have said is never going to absorb your message.
In the end, it's all about engaging the crowd. When you engage the audience, they will see that as charisma. And charisma, more than articulation or intelligence, is what an audience really remembers from an exceptional speech.
4. Use more than just words
A shortcut to being memorable is using visuals.
That might seem a little too obvious to be truly useful advice but surprisingly few people actually implement it as a strategy. Even when they do, the visuals usually take the form of a Powerpoint presentation or something equally dry.
The beginning of Steve Jobs announcement of the first iPhone is a perfect example of using visuals in a memorable way
When writing this article, I had this speech on instant recall when thinking of an exceptional example of using visuals in a speech. That is because Jobs used the visual elements in a way that told a concise narrative. He set up the story that he was releasing three products by using simple visual representations, then followed up by giving the audience three symbols to inject their ideas of the devices he was talking about into. Then when the elements were combined, the concept of three devices in one was a much more tangible concept (it also probably helps that he was launching one of the most revolutionary tech products in the history of technology).
Tell a story and make it personal
Speaking of telling a story, it matters a lot what type of story you tell.
'Very good' public speakers do their research and present their audience with an thorough and well thought out narrative of ideas. But the public speaker's role is not to simply to inform. If that's all it was, then you'd be better off just writing an essay. It would deliver roughly the same result and probably reach more people
Public speaking is about storytelling and making people feel what you're telling them. Can you relate something from your life and turn it into an analogy for a wider point?
In Amanda Palmer's TED Talk: 'The Art of Asking', she uses a technique that many exceptional public speakers use – she starts with a personal and unique story.
Why is that so effective? Because this is a story only she could tell. No one could produce that talk from research. She had to live her exact life and go through those exact experiences to produce what she does on that stage.
And because the audience knows they are listening to something unique they are attentive and they remember what she says. They go on the journey of learning with her, so instead of being 'told' what the point of her speech is, they reach the same conclusion on their own terms.
Use your personal life to find stories that speak to people and take them on the journey that got you where you are today.
In summary: be perilous not safe; keep them guessing rather than explaining everything; be fluid not rigid; and be personal instead of informative. And most importantly: don't be 'very good'. Be exceptional.
With graduation season underway, commencement speakers are giving students one last lesson before entering the work force. The most effective speakers share their own life experiences and offer the graduates and their families 15 minutes of uplifting, often humorous and personal observations about what it takes to succeed in life.
Toastmasters International, which has helped millions of people learn to speak with confidence and poise in front of audiences, shared 6 speeches with me, as among some of the most memorable commencement speeches.
As he was facing his battle with cancer, Apple founder Steve Jobs reminded Stanford's graduating class of 2005 to follow their hearts. "Remembering that you are going to die is the best way I know to avoid the trap of thinking you have something to lose. You are already naked. There is no reason not to follow your heart."
Speaking at Harvard in 2008, famous author J.K. Rowling relayed her experiences of failure and encouraged graduates to pursue their goals. "It is impossible to live without failing at something, unless you live so cautiously that you might as well not have lived at all — in which case, you fail by default."
When educator Erin Gruwell, founder of Freedom Writers Foundation, gave her commencement speech to the University of California, Irvine School of Humanities in 2012, she addressed the anxiety of embarking on a new journey. "Each and every one of you get to rewrite your own ending. Some of you knew from the womb what you were going to do. And some of you are sitting there right now, thinking 'Oh my God, what am I going to do starting tomorrow?' I was that person. I'm still that person."
While speaking at Knox College in 2013, actor and comedian Ed Helms advised the graduates to embrace taking risks. "So long as your desire to explore is greater than your desire to not screw up, you're on the right track. A life oriented toward discovery is infinitely more rewarding than a life oriented toward not blowing it."
Returning to Harvard, her alma mater in 2014, Facebook Chief Operating Officer Sheryl Sandberg addressed the issue of gender inequality. "The first time I spoke out about what it was like to be a woman in the workforce was less than five years ago. That means that for 18 years, from where you sit to where I stand, my silence implied that everything was OK. You can do better than I did, and I mean that so sincerely."
While speaking at Maharishi University of Management in 2014, actor Jim Carrey urged the graduating class to not let a fear of the unknown cause them to settle. "So many of us choose our path out of fear disguised as practicality. What we really want seems impossibly out of reach and ridiculous to expect, so we never dare to ask the universe for it."
Reprinted with permission by Toastmasters International.