I'm super excited to have received the highlights video of one of my more recent keynotes.
It's been added to the list of other videos on my Speaking page, but I wanted to share it here too!
It's not quite as clear as some of my other ones, because my video guy had to stand WAAAAAAY at the back of the room, and wasn't allowed to move around (due to convention centre rules). He went full-tilt on the zoom function to get it to look this close. And while there was actually a stage in the room, it wasn't very usable. There was a big table right in the middle (that couldn't be moved), AND a big fat lectern taking up a ton of space (that also couldn't be moved). More on the logistics of room setup in a future post — stay tuned! Anyway, that's to explain why I spoke from the floor, and not from the stage.
As always, I'd totally welcome any thoughts/feedback on the video that you'd be willing to share with me!
View the video directly on my YouTube page. 
"Professional public speaker Suzannah Baum shows us how to overcome the very legit panic that comes with addressing a group."
I was SUPER excited to be interviewed by Elle Canada magazine as part of their Fearless Factor segment, in an article entitled "How to Speak in Front of a Room Full of Strangers."
Get 5 key steps that will help you manage your nerves, gain confidence, and be your awesome self on the day of your presentation.  
Read the full article in Elle Canada magazine.
It's Oscars time! And with that, the review of the stand-out speeches, the flops, the themes of the night (politics, love, and….MOTHERS!), and whatever shenanigans happened over the evening. And yes, there certainly were shenanigans!
This year I was excited to head over to Global TV Montreal to talk about it! Check out the segment below (both what it looked like in the studio, and what it looked like when it aired).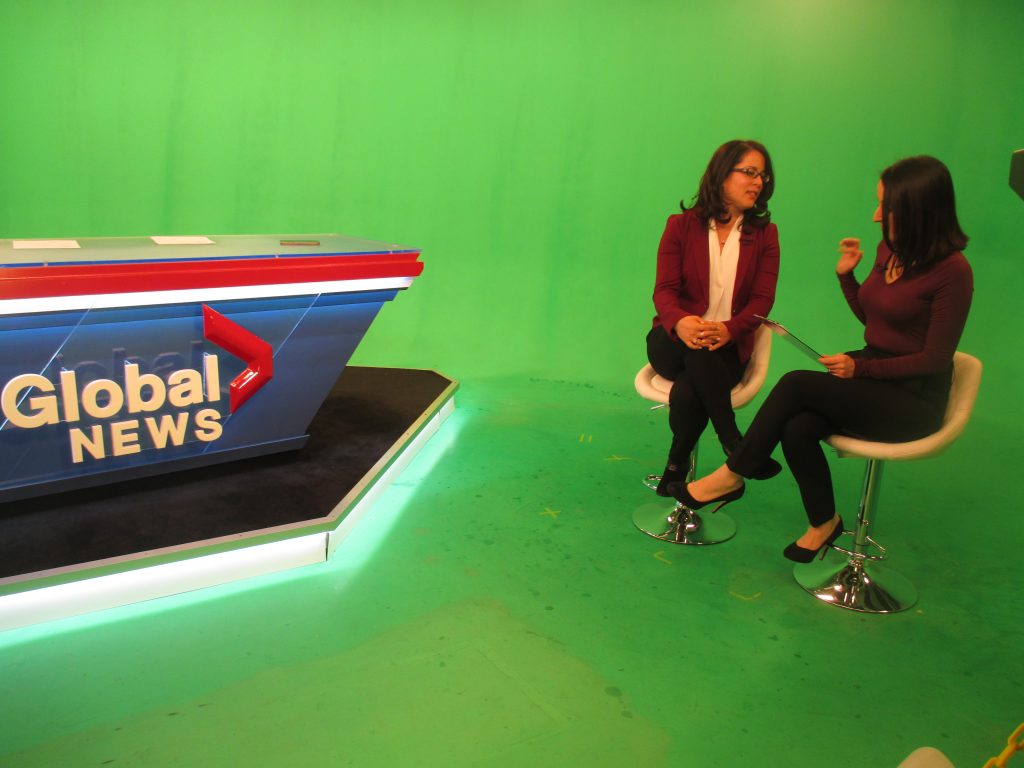 Who else stayed up and made it until the end?? Come on, warriors….let's hear from you!
I've just popped back in from a whole week off, I watched the WHOLE 2017 Oscars telecast and then got up at 5am for a TV segment on GlobalTV Montreal to talk about the outstanding speeches of the night (more on that in a few days), and I'm gearing up for some serious balancing acts as I try to power through some upcoming events, whil
e still making sure that my little boy has quality time with his mom when he gets home from school.
So while I might be a few weeks away from writing some new content, here's an insightful (and really entertaining) post by guest blogger Alli Matson, aka "The Funniest Presentation Authority," on 8 Surprising Traits of the Best Presenters!
Picture this….you're sitting in a boardroom listening to one of your colleagues, your team, or your boss give a presentation. They pull out their slides, and they are CRAMMED with information, from top to bottom. And for the next half hour, you're stuck in that room, as they go through each and every overfilled, unengaging, brutal slide.
Some people put a lot of effort into creating their slides… and the presentation is very valuable to the audience.
And some people put a lot of effort into creating their slides… and yet, the audience's eyes STILL glaze over, because they're bored, unengaged, and wondering when it will end.
Check out this 2.5 minute video for 2 quick and easy fixes to your slides to ensure that they help – rather than hurt –your presentation.
What strategies work for you when you put together your slides? I'd love to hear all about it in the comments section below!
"I realized that I wasn't very good at public speaking. I lacked the basic principles such as how to properly organize my speech using visual aids, using my voice in a better way, and finding the best speech structure to drive my points home."
Not what you would expect Daniel Rex, the CEO of Toastmasters International, a world leader in communication and leadership development, to readily admit. And yet, after 26 years in the organization, he's come a long, long way.
With over 15,900 clubs in 142 countries, and millions of Toastmasters members worldwide since it was founded in 1924, it's fair to say that the Toastmasters formula of having members give speeches, gain feedback, lead teams and guide others to achieve their goals, all within a supportive  atmosphere, has been phenomenally successful.
Daniel has been involved with the organization since 1990, having started as a marketing manager, to assuming the role of Executive Director in 2008 and being appointed to CEO in 2013. Daniel readily admits that his experience as a Toastmaster changed his life. "I can't even count the number of people who said Toastmasters changed their lives too," he notes.
The right club for the right person
"Back in the day, I was a member of Toastmasters for around 8 years, and at the time, I was lucky enough to find a club that was filled with dynamic, supportive and fun people who I connected with immediately.  Others may have to visit a few clubs before they find the right fit for them."  In recounting his long history with Toastmasters, Daniel agrees that each club has its own unique vibe and character.
He recalled one club in California that he visited had members who had come straight from surfing at the beach immediately before the meeting – even smelling like salt water – while other members attended the same meeting in a suit and tie. At the same time, there are some clubs where if you're NOT wearing a business suit, you'd be out of place. The culture varies, and yet, one of the great strengths of the organization is that clubs can develop who they are and how they want to work, yet still deliver the core educational program.
Huge growth for the future – because face-to-face communication still matters!
Daniel was excited to tell me that the Toastmasters organization is in a strong growth phase. When the global economy crashed in 2008 and 2009 and most businesses were flat, Toastmasters grew and has continued to grow by 4 to 7 percent per year ever since.  There is a growing global awareness that communication and leadership skills are more critical than ever. Especially with the reliance on mobile devices, many of us are accustomed to communicating electronically and neglect face-to-face communication – which is still a crucially important skill to develop.  There's a constant demand for better communication, and the 'experiential learning laboratory' that is Toastmasters is still the most effective program to achieve this goal at a reasonable cost.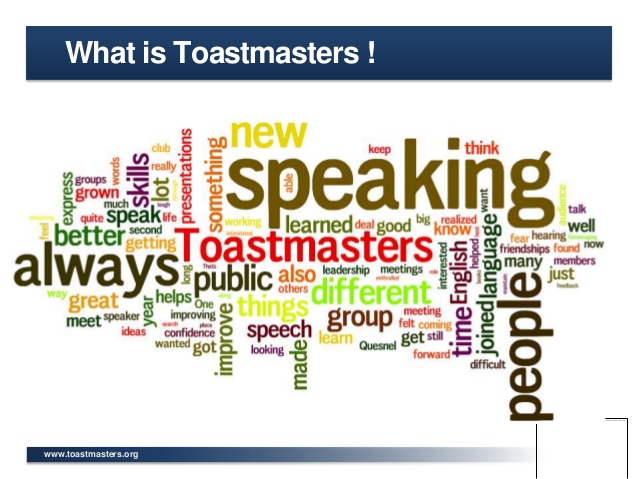 The launch of Pathways – learning from the ground up
Daniel was very excited to share details about the Pathways program, a new approach to Toastmasters learning, set to launch in 2017. Pathways is based on five core competencies; public speaking, interpersonal communication, leading and managing, and strategic leadership. So you could choose to focus more on public speaking and interpersonal communication, or you might work on projects that are a blend of public speaking, leading and managing, if that relates more closely to your professional or personal goals.
Pathways also introduces technology to the learning experience. This means that members are free to work on projects online, watch videos, and engage in digital interactivity. Team building and engaging an audience, composing a well-organized speech, and leading with flexibility are some of the competencies that are built into the Pathways program. "We created it because our members asked for it," said Daniel. "We have been working on it for about 5 years with members in clubs and online, telling us what we were missing. It's a natural evolution of the Toastmasters mission. The rollout begins this month and should be completed worldwide by the end of 2018." The first group will be in California – which, coincidentally, is where Toastmasters began.
The future looks bright
When asked about the future of the organization, Daniel said that in 10 years Toastmasters will be more important than ever. "The brand will be stronger and have an active alumni group. Pathways will be a large part of that. We're now able to offer not only public speaking but interpersonal communication, leading, managing, and strategic leadership. We're also working on a plan to better communicate our brand to the outside world and to support clubs and districts through stronger social media."
The love affair with Toastmasters continues….
As a presentations and executive speech coach, I often come across individuals who tell me they don't need help in public speaking, because they are already comfortable speaking in public. The real question is, however, does your audience think that you have no problem speaking? Can you get your message across effectively? That is why Toastmasters is so essential and so popular. They teach not only how to develop presentation structure and how to deliver with confidence, but also how to connect with an audience. It's an incredibly valuable resource for new and seasoned speakers.
As Daniel said, Toastmasters changed the course of his life, and he couldn't count the number of people who have told him Toastmasters changed their lives, too. Toastmasters changed my life as well, and for that, I will be forever grateful. And for people like Daniel, as well as the tens of thousands of volunteer leaders working tirelessly to help members build their communication and leadership skills so that they could change the course of THEIR lives and careers and build a brighter future, millions of other people worldwide are also forever grateful.
At 10:25pm EST on Sunday night, I got a text from a friend that said "Just watched Meryl Streep give the most powerful speech at the Golden Globes. I'm still crying. If you missed it, you MUST YouTube it."
The next morning I got another text from the same friend, saying: "You MUST check out Meryl's speech. It's everywhere…heard it again and wept again."
Having missed watching the Golden Globes (for which I have absolutely NO good reason, by the way) and being an obedient friend, I dutifully watched the video.
And then….Whoa. (That's code for "if you haven't seen the speech yet, then it's time that you see what all the fuss is about").
Politics aside – this speech was emotional. It was empassioned. It was, as my friend said, powerful.
So I wondered…why? Why is this speech so powerful? Is it WHAT she said? Is it HOW she said it? Is it because it's Meryl Streep, and everything that she does is gold?
Yes, yes, and probably. But if we go a little deeper and break down the components of this speech, we can see that it's the STRUCTURE of this speech that allows it to flow so well, that connects with the audience, and that leaves its audience with a clear call-to-action, and a sense of hope over the mostly bleak picture that she paints.
My Create A Signature Speech That Sells program focuses on how to build a structured, engaging and compelling speech, helping you pinpoint how to say what you want to say, in a way that the audience needs to hear it —  thereby making it more accessible, interesting and engaging to the listeners. And I am so ridiculously excited to watch such a high-profile speech – and a high-profile speaker – take this structure and make waves around the world.
Here are 6 ways that the rock-solid structure of Meryl Streep's 2017 Golden Globes made the speech so captivating:
It's all about them. She starts with a focus on her audience, calling out specific actors and their birthplaces so that she could make a point about the 'foreign' of much of the talent in the room.
The "hook. " As she tells the story of the 'performance' that shocked and saddened her, she reveals that the story wasn't make believe, as the audience may have initially believed, but it was, in fact, quite real.
Describes the problem. "Disrespect invites disrespect, violence incites violence." Bullying by those in the highest office in the land should not be tolerated.
She uses powerful words. She uses very impactful words to share her emotional reaction to the above story. "It sank its hooks in my heart;" "show their teeth;" "it wasn't in a movie – it was real life;" "broke my heart;" "instinct to humiliate."
Call-to-action. She implores her audience, and the foreign press to stay vigilant in supporting journalists to report accurately.
Inspiring close. Although she paints a rather bleak picture of the current situation, she finishes the speech in an inspiring way, quoting Carrie Fisher (as Princess Leia) to "take your broken heart, and make it into art." Referencing the 'broken heart' that she did earlier in the speech and combining it with the art that her entire audience is dedicated to, seemed a very appropriate way to end a speech on a difficult subject on more of a high note.
Political ramifications aside, this speech hit a nerve and really moved a lot of people. As with any speech, looking at it more closely to see WHY it resonated so deeply lets us understand that it's not only because it was Meryl Streep giving the speech that made it powerful. It was WHAT she said, and HOW she said it. The focused, clear, and well-thought-out speech structure, and positioning the speech in way that is meaningful to the audience – both at the Golden Globes, and in living room of those watching worldwide – is what makes it truly stand out.
Well, THIS was a neat surprise! Feedspot Blog featured me as one of the Top 50 Public Speaking Blogs Every Speaker Must Follow. Or as the caption on the photo says…The Best Public Speaking Blogs on the Planet. It's a pretty big planet, and I'm honored to be featured with some of the other speakers/bloggers whom they have chosen.
On top of that, they also gave me this cool badge!
(and in case you're looking for it, I'm #39 on the list).
Thank you Feedspot!
The 2016 Toastmasters World Champion of Public Speaking was crowned late last summer, much to the delight of all speech-watchers around the world. Singaporean lawyer Darren Tay rose above 30,000 contestants — and the hardworking, very talented 10 finalists — to receive this prestigious title of the world's largest public speaking contest.
His speech, titled "Outsmart, Outlast," tells the story of meeting a childhood bully as an adult, and how this reformed bully taught him a valuable life lesson. And oh yeah….he delivers much of the speech while wearing his underwear on the outside of his pants.
Watch the video of full speech, and the Business Insider interview with Darren on the process he went through to craft it.
Darren employs a variety of useful speech tools, including:
The use of a somewhat surprising prop (more about that later)
Storytelling as an opener
Pausing
Body language and purposeful movement around the stage
Dialogue with the audience
A well-developed message that is delivered in a way that connects with the audience, helps them see themselves in it.
So let's talk about the prop — Underwear. It's risky, it's surprising. Did you think it was effective? Given that he wore it for the whole speech, was that too long? Should he have taken it off earlier?
Also, how do you think it compares to the speech of the 2015 World Champion winner, Mohammed Quatani?
I'd love to hear your thoughts on this!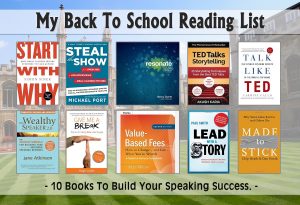 Whenever September rolls around, I can always sense renewed energy in the air. Maybe it's that we're all 'waking up' after a hot, lazy summer and the phones are starting to ring – maybe it's because the kids are going back to school, and we have no choice but to get busy – and maybe it's because as adults, we still vividly remember the excitement, nervousness and general chaos when WE were returning to school.
But just because we're adults doesn't mean that we should slack off on learning, reading and growing! And while we probably have less time in our day now wheels of September are turning round and round, it's still vitally important to carve out small pockets in our day (even if it's only a few minutes before bed) to keep our brains moving, our skills building, and our businesses and careers expanding.
This Autumn, I'll be re-looking at some of my favorite books that have given me enormous insights on how to enhance my speaking skills, learn the secrets of TED, build my speaking business, set my fees, be a better storyteller, and more.
So here we go with my Autumn reading list.
Start with Why, Simon Sinek
I start with this one, because it's the book that's sitting on my nightstand as I write this, that I'm about to crack open. I'm a huge fan of his TED speech, How Great Leaders Inspire Action, which focuses on the "WHY?" (which also backs up the whole philosophy behind my Create A Signature Speech That Sells online program that helps you create structured, engaging, meaningful presentations).  I also just bought this book as a gift for many of my clients, and they LOVE it. Can't wait to sink into this one!
---
Steal the Show: From Speeches to Job Interviews to Deal-Closing Pitches, How to Guarantee a Standing Ovation for All the Performances in Your Life, by Michael Port
That title pretty much says it all, doesn't it? Michael Port is talented, passionate, and mesmerizing to watch.
---
Resonate: Present Visual Stories that Transform Audiences, Nancy Duarte
This book has been on my shelf for many years, and I tend to refer to it every now and then as a very valued reference. I always loved how she equated a speech as a journey, almost like a roller coaster, highlighting the ups and downs of a good presentation. She teaches how to create and use stories in way that are woefully underused…but when used correctly, engages and transforms the audience.
---
TED Talks Storytelling: 23 Storytelling Techniques from the Best TED Talks, by Akash Karia
Using case studies TED talks by Sir Ken Robinson, Dr. Jill Bolte Taylor, Susan Cain, Leslie Morgan Steiner, Mike Rowe and Malcolm Gladwell, this short guide shares how to use stories to make your presentations engaging and entertaining, and how to craft stories that keep your audience mesmerized.
---
Talk Like TED: The 9 Public-Speaking Secrets of the World's Top Minds, by Carmine Gallo
Carmine Gallo deconstructs hundreds of TED presentations, interviews some of the best TED speakers and narrows it down to nine secrets of all successful TED presentations, providing a step-by-step method that makes it possible for anyone to create, design, and deliver a TED-style presentation.
---
The Wealthy Speaker 2.0: The Proven Formula for Building Your Successful Speaking Business, by Jane Atkinson.
One of the first books I bought when I started my speaking career over 10 years ago, this book is the definite guideline to teaching aspiring (and experienced) speakers how to get more bookings at higher fees. I still remember reading the first 2 pages, "A Day In the Life of a Wealthy Speaker," and how it filled me with that weird feeling in my stomach. You know, the feeling that says "That! I want THAT!"  Everything from positioning, picking a lane, important website elements, speaking bureaus, building a client database, marketing materials, developing processes and setting fees, my version of this book is dog-eared, and full of highlights and notes. Definitely a great investment for any speaker (I read the original, but I'd recommend the updated Wealthy Speaker 2.0 version).
---
Give Me a Break: The Art of Making Time Work for You, by Hugh Culver
Also a staple in my library, I love Hugh's no-nonsense tips and strategies on how to create processes, new habits, and new ways to managing your time so that you can just get 'er done!  I will always struggle with the chapter that talks about the virtues of having a clean, tidy office desk (not because I disagree, but because it'll take a miracle to get all the papers and junk off my desk). One day it'll happen, Hugh. One day…
---
Value-Based Fees: How to Charge – and Get – What You're Worth, by Alan Weiss
The best, most highly-paid speakers in the business always refer this book to me, and so, I refer this book to YOU. It has been touted as the definitive guide on how to set your fees – and set them HIGH, to get them in line with the magnificent value that you bring to your clients. Those who have read this book (as I said, the best, most highly-paid speakers in the business) swear by Alan Weiss' approach. So who am I to argue?
---
Lead with a Story: A Guide to Crafting Business Narratives That Captivate, Convince, and Inspire by Paul Smith
Paul Smith is a corporate storytelling expert who helps people use an emotionally-driven narrative to choose a story tailor-made for their own particular need, adapt the ready-made stories, and even craft their own. It's so relevant in business today, especially as corporate executives become more and more aware of the value of storytelling and audience engagement in their presentations.
---
Made to Stick: Why Some Ideas Survive and Others Die, by Dan and Chip Heath
This book has been around for awhile, yet still keeps coming up on many "recommended" lists, and it's easy to see why. Essentially, why do some ideas thrive while others die? And how do we improve the chances of attracting others to our ideas? This book addresses these questions, reveals the 'anatomy' of ideas that stick, and explains ways to make ideas stickier (but not the "ew, gross!" kind of stickier).
What about you? What books are YOU dedicating yourself to this Autumn?