Corporate Training Programs: Public Speaking & Presentation Skills
Is your team getting their point across clearly, concisely, and confidently to your clients and potential customers?
Is your team giving presentations that are compelling enough to move their audience to action?
Are your managers able to communicate properly with their team — and share both good AND bad news — in the most appropriate way?
When speaking with clients, prospects or investors, your team's presentations must be persuasive, powerful and professional. And above all, they must focus on the needs of your clients, if you want to stay ahead of the competition.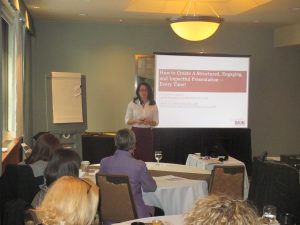 At the same time, internal presentations — given to and by employees and management — are a crucial piece to ensuring that company information gets shared, projects move forward, teams communicate well with each other, and outstanding individuals are given an opportunity to shine.
If your employees and management haven't fulfilled their amazing potential when speaking in front of groups, WHY WAIT?
PRESENTATION SKILLS TRAINING FOR EVERY LEVEL OF MANAGEMENT
These interactive trainings focus on the powerful tools and techniques that can be used to turn every presentation or public speaking opportunity into a rewarding experience. Whether speaking to one person or a crowded room, participants will learn a variety of techniques to enable them to stand before a group and successfully deliver compelling messages.
In these training, your team will learn:
Techniques to reduce the stress and anxiety of public speaking
The three simple, but necessary, parts to every presentation
How to structure your presentation for maximum impact
The different structure requirements for informational and persuasive presentations
How to get – and keep – an audience's attention
Delivery styles that help you connect with your audience
How to organize your thoughts for impromptu speaking
How to recognize and avoid the most common bad speaking habits
The power of stories and personal experience
How to make facts and statistics come alive
How to use PowerPoint and visual aids properly
Q & A sessions
Best audience: Company executives, front line staff, boards of directors, entrepreneurs, small business owners, associations, academic institutions
Length of presentation: Flexible —  Half-day, 1- or 2-day training
What Clients are Saying…
"Suzannah's training program brought tremendous value as we prepared for our annual user conference this year. Not only did our team enjoy the presentation skills training and coaching workshop, but they continue to use what they learned – for thought leadership webcasts, tradeshow speaking engagements and customer presentations. We follow Suzannah's Diamond speech structure flowchart, which allows us to create strong, engaging presentations faster – and with more focus. Thank you for giving our team such a great foundation to build on for all our future presentations."


Rahim Kaba
Director of Product Marketing

.
"I considered several presentation vendors, before deciding upon Suzannah. While the others tended to have rather inflexible 'boilerplate' training programs, Suzannah was willing to work with me to put together a customized program to fit the needs of my team. We spent significant time brainstorming and identifying the most relevant, meaningful content, and Suzannah also did a fair bit of work in advance, reaching out to members of my team to ensure that she understood their needs and training objectives, prior to the training day. The day was comprehensive, and at the same time, relevant, interactive, and fun. I was very pleased with the result, and the feedback I received from my team was overwhelmingly positive. I am confident that this investment will make an immediate difference in their success."

Jeff Miller
National Business Manager, Roche Custom Biotech

~~
.
"My sales team & I recently participated in Suzannah's signature Public Speaking & Presentation sales modules. Right from the onset, the team was engaged and valuable insight and discussions ensued. Suzannah's training brought tremendous value as she easily gained the trust & respect from the team. Her vast experience in delivering a concise & clear message will pay dividends for our organization for years to come."
"The public speaking workshop Suzannah led for our staff provided excellent tips on structure and content, along with opportunities to practice. She creates a comfortable environment so that attendees feel supported in their learning, allowing them to build their confidence in the public speaking arena."
Trish Duff
 
Director, Alumni Relations
McGill University
~~~
"Some of the key things we focused on were how to create that perfect presentation that allowed us to stay focused and engaging with our audience. The most important thing that I took away from the session was being able to understand how my audience thinks."
Rose Timmerman-Gitzi, BA
, CMM
President, RTG Special Events and member of CANSPEP (Canadian Society of Professional Event Planners)

~~~